Hello friends and happy Wednesday! I have something very exciting to share with you today - and new, limited edition kit from Picket Fence Studios called, Mr. Frosty Comes to Town!
**Thank you for using my affiliate links to shop, your support means more to me than ever. If you're here, that means you enjoy my posts and find them inspirational, and I'll strive to create quality tutorials and projects .**

Kit includes:
6x6 Stamp Set (Snowone Else Like You)

6x6 Coordinating Die Set for 6x6 Stamp set (Snowone Else Like You)

4x6 Snowflake Die Set (More Snowflake Dies -5 snowflake dies)

Fancy Christmas Trees Blending Stencil

1 oz. jar of Paper Glitz: Sparkle

1 oz. jar of Paper Glaze Velvet: Nordic Lights (Exclusive Color)

Mixed Media Spatula (random styles and sizes)

4 Sheets of 8.5 x 11 of Pearl Speciality Paper (black, silver, blue, and opal)

4 Large Snowflake Die Cuts (2 of 2 different styles)

6"x6" Fabric Cork Paper

Custom Cut Silver Christmas Tree Sequins

Snowflake Sequins with Clay Snowflakes

12" Clear Twine
I've made a selection of cards using contents from the kit.
Cards One & Two - 5 Minute Cards
There are some large die cut snowflakes that come in the kit, and they are perfect for those quick cards! I've made two square cards iusing the papers and sentiments from the kit. Perfect for those last minute cards or for some batchmaking ideas.
Cards 3 & 4
Also included in the kit is a fabulous multi-image stencil, Paper Glitz Sparkle, and an exclusive blue Paper Velvet!
I've used the sparkle and velvets with the stencil on both of these cards - the color is absolutely beautiful!I also used the sentiments in the kit, which are lovely and festive!
Card 5, Slimline Snowflakes
For my next card I focused on the snowflake die set in the kit, and used the exclusive Paper Velvet to give them an amazing blue color.
Also in the kit are a variety of pearlescent papers, and I've used threee colors here, the white, light blue, and navy. The sentiment also comes in the kit and I've black heat embossed onto vellum.
Card 6 - Mr. Frosty
My last card features the main stamp and coordinating die set, which is my absolute favorite!
He's been stamped out onto 110lb hot pressed watercolor paper and then watercolored in a rainbow of Kuretake Clean Color Zig Markers.
I've finished off with one of the sentiment from this set, and mounted onto an A2 card base. This card is clean, simple, and beautiful! You could easily batchmake a ton of these cards for Christmas in a single setting.
Thanks so much for taking the time to visit me today, and I hope that I've given you a little inspiration when your kit arrives.
Some of the links I use are affiliated. This means I make a small commission when you purchase through them but don't worry, there is no additional cost to you. Your support means the world to me, and I am so grateful that you choose to shop through me. From the bottom of my heart, thank you.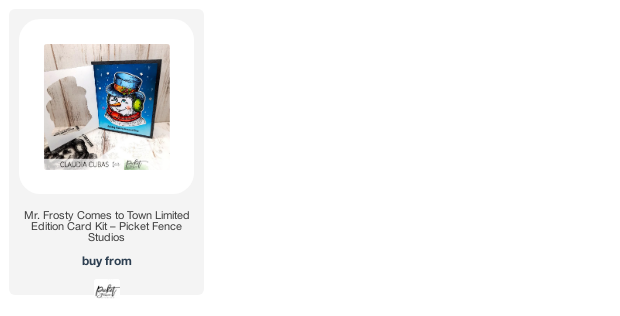 See you soon, and take care.