Today is World Card Making Day! To celebrate, I've taken part in a card swap with a fellow crafty soul.
My partner was a lovely lady named Tracy and she's made a beautiful die cut card. I'm always honoured to receive anything handmade and am so appreciative of the time, effort and love put into cards and projects. Thank you so much, Tracy!
For my swap, I went with a new technique for me (no pressure then!) - no-line watercolouring. This wasn't easy but after a little practice I sort of got the hang of it.
My finished card isn't perfect by a mile, but I enjoyed the process and hope that my swap partner likes it. Handmade does not require perfection, only passion.
Instructions
Stamp background image with Antique Linen Distress Ink.
Select colour for your floral images, Seedless Perserves. For the leaves, Mowed Lawn & Twisted Citron, and the white space, Broken China Distress Oxides.
Begin laying down colour. When using watercolours, layers are key to achieving depth and shadows.
Be sure to let air dry (or use a heat tool) between layers of colour.
Using a paintbrush, you can wipe away excess colour and blend shading.
Use undiluted colour for lines you want to trace.
Allow to dry and then add some touch ups, if needed.
Once completely dry, use Broken China Distress Oxides to fill in the the white space.
Die Cut background sentiment straight into the card panel. Attach with foam pads and then cut out sentiment with Jet Black Craft Perfect card. Mat and layer panels to fit an A6 card base.
Using a white Posca Pen, splatter your panel.
Assemble onto A6 cardblank and add some silver sequins to finish.
And that's it! This technique was a little intimidating and there is a lot that isn't right about this card, but I stuck with it and had a go. It was fun to try something that I never thought I'd be able to do and the next one I make won't be so scary!
I hope my swap partner likes the card - is it just me or do we all get nervous when we sent people our handmade work?
Thank you so much for visiting my blog day and HAPPY WORLD CARD MAKING DAY, 2019!
See you in a few days with an awesome new collection!!
Lots of love,
Jen xx
Shopping Lists are below (UK & USA Linked separately).
UK Shopping Lists (Tonic Studios, CraftStash)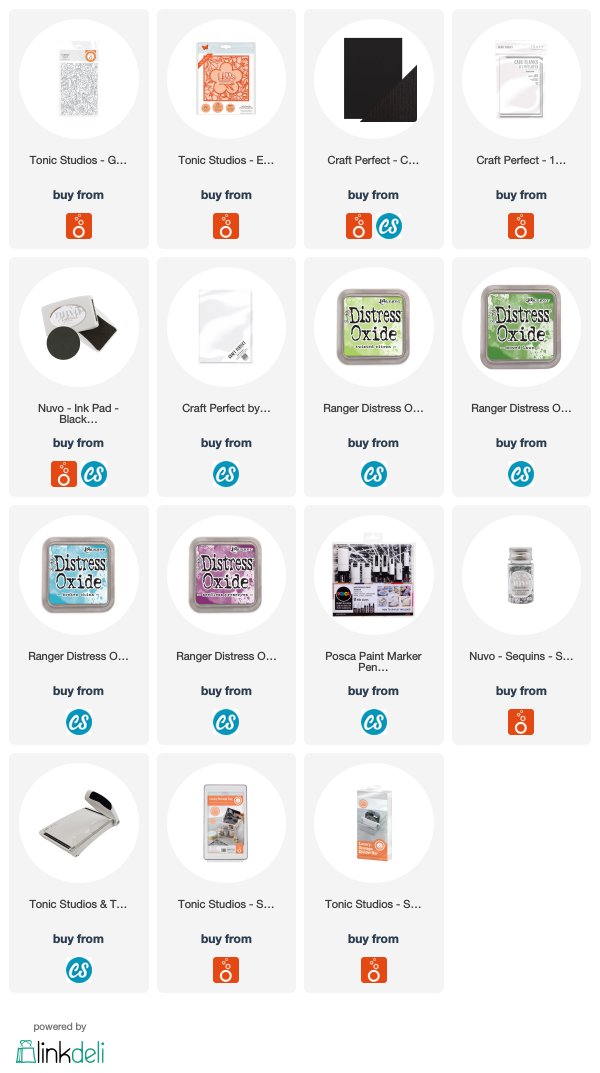 USA Shopping lists (Tonic Studios, Scrapbook,com)